A trip to Matera is not merely the discovery of a wonderful artistic city – one of a kind in a breathtaking landscape. It also means being pleasantly surprised by a lively town that still preserves its religious and folk traditions, a place where handicrafts as well as cuisine and wines have always been a distinguishing mark of its culture.
Age-old crafts such as working stone, pottery, papier-mâché, wrought iron, wood, and the art of the goldsmith are still handed down from father to son. Similarly, bakers, market gardeners, wine-makers and confectioners hand their trades down to the next generation. Visitors will be pleasantly surprised by the locally crafted products and by the taste of traditional cooking.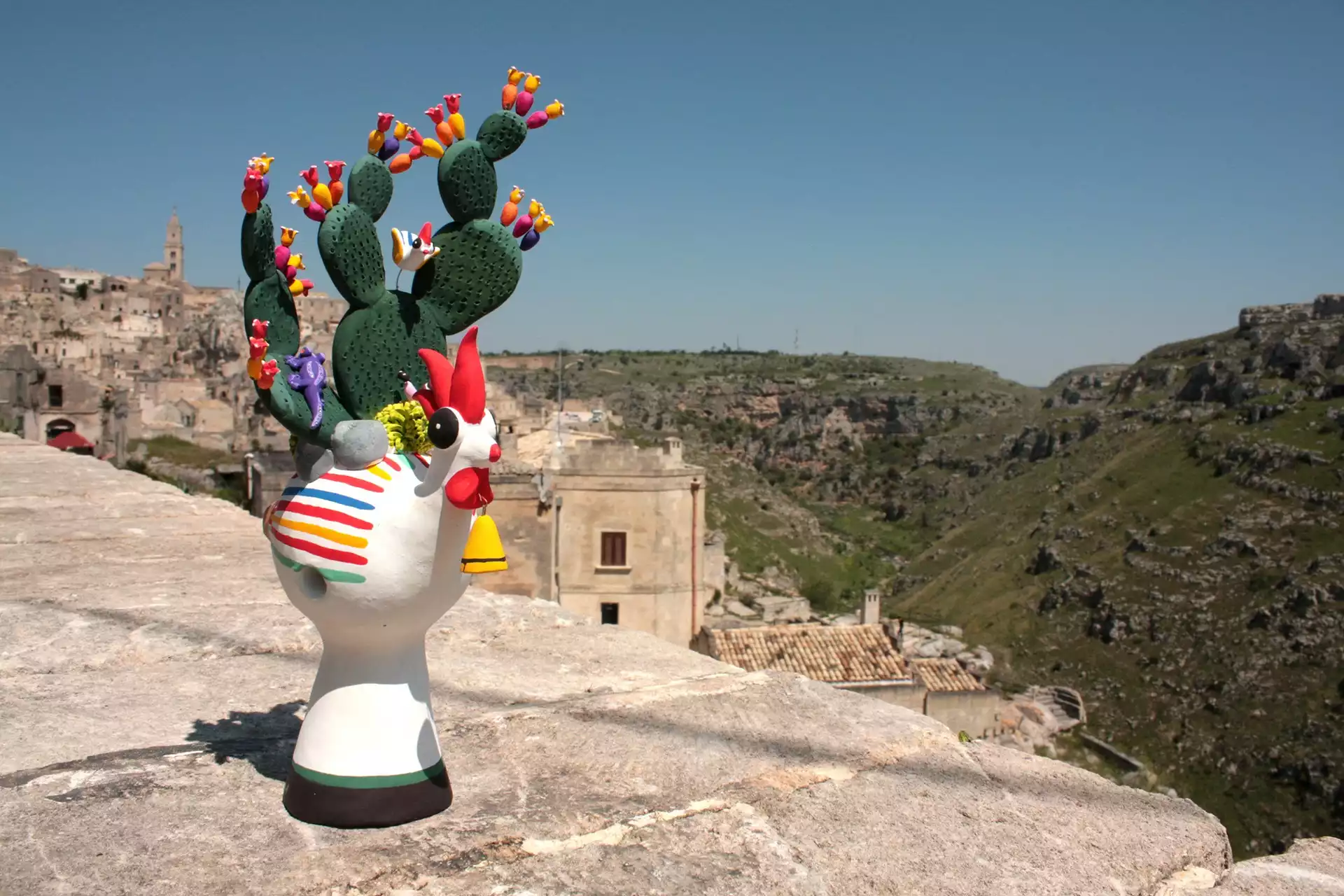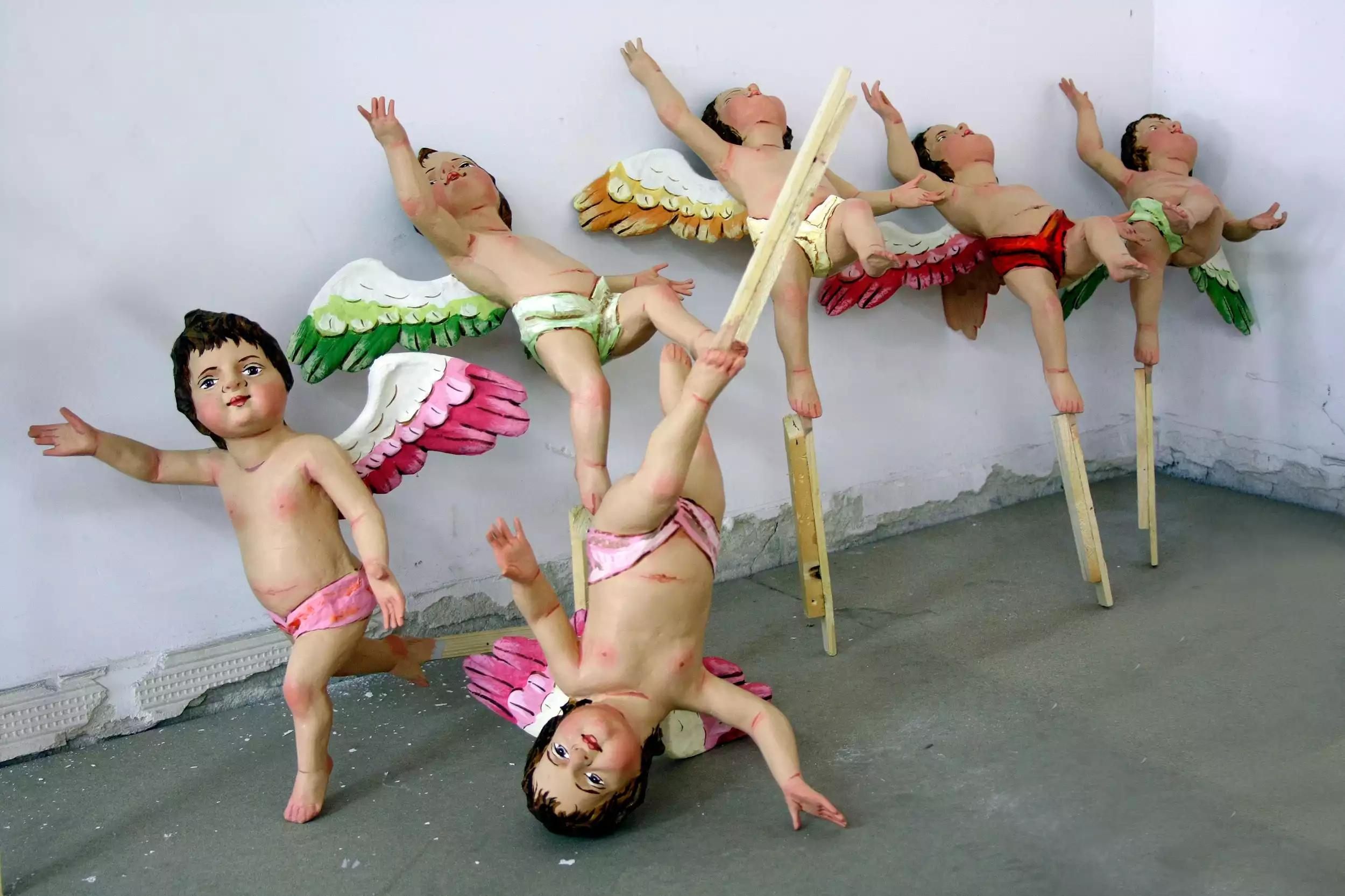 The local stone is calcarenite, a type of sedimented rock of marine origin containing minute animal fragments. Commonly it is known as "tufo" (or tufa stone), in the past it was used for building houses. This is a highly porous stone that absorbs water, which is why it deteriorates with the passing of time. The ongoing action of atmospheric agents as well as humidity and temperature changes may lead to the appearance of holes and cavities of some consistency. The colour of this stone may range from straw yellow to greyish white, depending on where it was quarried.
As it is easy to hew and work, it was already used in prehistoric times. During the Neolithic Age, rock was dug out in order to surround the inhabited area with an enclosure wall; dry-stone walls were also supposed to protect the village sheep and goats from wild animals such as wolves. Moreover, the excavated rock was used for furnaces, to make tanks for the settling of clay as well as vats for foodstuffs, cisterns for rainwater and holes where to place the poles for huts. Often a masonry façade was added on to the caves in the Sassi districts using the very rock that had been obtained by excavating the cave used as a dwelling . Capitals, rose windows and altars in churches, the arches, balconies and chimneys of houses are proof that stone-working was an integral part of the city's cultural heritage. In the late 17th century, on account of the considerable increase in population, stone quarries appeared outside the inhabited area on the edge of the Murgia plateau along the via Appia where calcarenite was to be found. No trade was harder than that of the quarrymen – men who had to hit the stone with a pickaxe in order to support their families. In the past, this was an exhausting type of work that slaves did or those who were condemned to forced labour. In the early 20th century, the day of a quarryman began at dawn and ended at sunset when at least fifty blocks of stone, all of the same size and rectangular shape had been loaded onto a wagon and were ready to leave the quarry. Not until the 1950s was quarrying mechanized using electric saws that followed straight lines. Nowadays, in the environs of Matera the quarries have almost all been abandoned; there is just one still operating along State Route 7 Appia to Laterza (TA) and another one in the area of Montescaglioso (MT) about ten kilometres from the town. Besides using the material from these quarries to do restoration work in the houses of the Sassi, these craftsmen working stone are also skilled at creating interior decoration accessories, as well as artistic sculptures. Pietro Gurrado, a sculptor, makes lovely polychromatic statues inspired by his imagination, by personalities from history, by myths and tradition. The group of sculptors belonging to the Progetto Arte and Materia Arte make accessories for interior decoration, decorative objects, architectural trimmings as well as sculptures, light fittings, party favors for special occasions, and stone clocks while BG Arte and Sassi in Miniatura cater mostly to tourists and make air-intakes, decorative lamps, Christmas creches, bas-reliefs and souvenirs.
In the Matera area, the art of shaping clay – just like quarrying rock, goes back to the Neolithic Age. The famous clay items in the Serra d'Alto style that characterize the mid- and late Neolithic Age come from a clayey hill not far from the Sassi. From Prehistoric times up until the early 1900s, clay was only used for household items. In the old furnaces in via della Croce they manufactured bricks, utensils for the kitchen, tiles and terracotta drains for houses . The apprentices whose job it was to work the clay using their feet, which is why they were called "pestacreta" ( clay crushers), made some extra money by making small sculptures depicting dolls and colourful rooster-shaped whistles called "cuccù" that they sold on Easter Monday in the Cappuccini neighbourhood where this day is celebrated. The first proper pottery and ceramics factory goes back to 1921. The first entrepreneur in this sector was Gioacchino Cappelluti Altomare who had come to Matera in 1915 as the owner of a firm that was building the Matera-Altamura railway line for the Ferrovie Appulo Lucane. Thanks to this factory, the first houses made of bricks were built along via Cappelluti and via Passarelli. These clay products owed their success to the creativity of an artist – Guido Spera – who had come to Matera from Tito, a town in the vicinity of Potenza, and had attended the Academiy of Fine Arts in Naples. His drawings depicted rustic scenes celebrating the lives of farmers and shepherds and was inspired by motifs from the pottery typical of the Ancient Greek colonies in southern Italy. Later, the firm hired a decorator from Faenza and an entire family of potters from Grottaglie who then contributed to creating an excellent ceramics school with local designers and decorators, making ceramic artifacts by drawing on the traditional decorations of Faenza and Delfi. The old brick factory which no longer produced pottery was sold to the Manicone&Fragasso Company in 1958, but it closed down altogether in the late 1980son account of the growing use of plasterboard, prefabricated building parts, glass and concrete that contributed to modifying construction techniques, which, in turn changed the appearance of the city. Nowadays, there is a wide variety of artisanal production, because local artists tend to personalize their creations. Giuseppe Mitarotonda creates majolica tiles, plates, lamps, and bowls decorated with pastoral scenes depicting everyday life, religious traditions and historic events taken from Matera's history. Nisio Lopergolo, who sculpted the walls of his workshop in the Sassi, reproduces antique objects such as Pythagorean cups, but he has also developed a variety of styles, techniques and approaches to deal with the many languages of contemporary art. Pasquale Di Lena makes glazed earthenware dishes as well as objects typical of the local tradition that were used as cooking utensils in the past. Particularly sought-after are the large-sized ceramic jars traditionally used for storing oil and wine. Raffaele Pentasuglia creates figures inspired by reality or imagination, statues for Christmas crêches, commemorative busts in addition to portraits on commission. Pietro Gurrado makes terracotta whistles in the shape of horsemen or trees, terracotta sculptures of imaginary figures, personalities from history or characters inspired by tradition. Marco Brunetti devotes himself to the entire production process to create traditional "cuccù " whistles in a range of different shapes and colours. Marco D'Addiego produces terracotta as well as ceramic objects in the traditional local colours such as jugs and mugs, small figures depicting traditional subjects and bas-reliefs with scenes from the old town, i Sassi.
The art of papier-mâché reaches it peak of expression in the creation of the Triumphal Float to honour the Virgin Mary – the Madonna della Bruna – who is the protector of the city of Matera. The Madonna della Bruna's feast-day is held on the 2nd of July and the float that takes the virgin and child around the town is assailed by the crowd and destroyed. Every year, the master papier-mâché artists have to give proof of their craftsmanship to be awarded the privilege of creating a new float. The papier-mâché artist that builds the triumphal float needs to possess skills in various fields – painting, sculpture, woodworking as well as architecture. The art of papier-mâché has traditionally been cultivated by families of papier-mâché artists that have taken great care in handing down their techniques to the present day. It is thanks to various families –the Epifanias, Pentasuglias, Nicolettis, D'Antonas, Conversis, Amorosos, Ruggieris, and D'Addiegos – that papier-mâché techniques have not been lost in the past three centuries. Maestro Andrea Sansone, together with the young people in his workshop whom he calls "the true faces of the float" , has succeeded in giving a new look to the shapes and colours of the float honouring the Madonna della Bruna. Maria D'Addiego, on the other hand, creates papier-mâché Christmas crêches having the Sassi neighbourhoods as their unique setting. In his workshop at Porta Pepice, Aldo Urgo makes religious figures using multi-layer papier-mâché with a chalk and glue coating that is painted white and then decorated using acrylic colours and varnish.
The working of iron goes back to ancient times, that is, to the dawn of history when man crafted iron weapons to defend himself from this fellow man. In modern times, besides the iron and steel workshops in what used to be via delle Ferrerie and is now via del Corso, there were several ironworks and workshops where craftsmen sold and worked iron to make wheels for carts and wagons, fittings for wine barrels, horseshoes and railings, banisters as well as balustrades for balconies. Thanks to hardworking young balcksmiths , in the 1950s in the area where there were several furnaces, that is to say piazza Cesare Firrao, a number of hemp workers and blacksmiths opened workshops equipped for forging iron. They made headboards, railings, utensils for the fireplace, chandeliers, hatchets and hoes. Outside the shops, shapeless pieces of iron, damaged ploughs and other objects that were no longer of any use were left, only to be recycled whenever needed. In the late 19th century, in their workshops in via delle Beccherie calderai , using nothing but a hammer and anvil, coppersmiths manufactured tin-coated copper kitchen utensils, pots and pans, and cauldrons of various sizes. More recently, one of the coppersmiths that had a shop in via delle Beccherie was Filippo Colonna who set up a workshop with his sons, making pipes for air-conditioning systems –a true example of how a craftsman could become an entrepreneur. In town, some small artisanal workshops still exist nowadays – Nicolangelo Vignola, Maragno &Di Lecce, Latorre Arte and Di Arte in Ferro who make valuable objects for decorating interiors, and others like Eurometal specialized in working iron and in finishing metals.
Local shops producing objects made of gold and silver, metals and precious stones have existed in Matera since the 14th century. In addition to products imported from Naples and from places on the Adriatic coast, jewellery for ladies was also made by local gold- and silversmiths who marked the creations of their workshops with a punch saying "Mata". For centuries, the shops of gold- and silversmiths were located mostly in Piazza del Sedile; they made jewels for ladies , as shown in the marriage contracts drawn up by notaries which are now kept in the State Archives of Matera. The story goes that, in 1480 when the Turks took Otranto, and Ferdinand of Aragon, the King of Naples, found himself to be in financial difficulty, he asked the people of his Kingdom to come to his aid by donating silver to make money. It was on that occasion that the city of Matera donated, among other objects, the silver arm dated 1463 preserving the relic of St. John of Matera who was the founder of the Pulsanesi order of Benedictine monks. The shrine, which had been crafted by a silversmith from Matera, was bought back by Toto Santoro, a nobleman of Matera, who also purchased the great cross for the church. In the 17th century, all the silver of the cathedral was hidden away in a sort of safe to ward off the danger of robberies. Nowadays, the art of goldsmiths survives thanks to the perseverance of skilled craftsmen. Giorgio Simeone uses Etruscan yellow gold and lapislazuli to make brooches and earrings depicting the caryatids and hammered gold necklaces in the classical style. Giuseppe Maragno creates pearl bracelets and necklaces, rings in yellow gold using the Etruscan technique with diamonds and cultured pearls. Elsa Tumillo and Johanna Curti create necklaces, rings and bracelets handcrafted using silver, copper, aluminium and precious stones.
The art of working wood to make utensils for everyday purposes started with shepherds who devoted their breaks from work to artistic endeavours by creating human figures, spoons, ladles, animals, as well as stamps for bread which bore the initials of the name and surname of the head of the family in order to make it easy to recognize the loaf of bread the family had brought to the neighbourhood oven for baking . In their workshops, the expert craftsmen made furniture, barrels, entrance doors, furnishings for the local churches as well as wooden toys such as spinning tops to please the children. In the 1960s, the master cabinet makers Pasquale Natuzzi, Saverio Liborio Calia and Giuseppe Nicoletti, who had been apprentices in small workshops, started making sofas and armchairs. In the 1970s they changed over to industrial production , founding Natuzzi Salotti, Calia Salotti and Nicoletti Salotti, which became the main firms of the upholstered furniture district. Over the years, they were able to conjugate age-old craftsmanship with top- quality industrial products, thus becoming a feather in the cap of Italian style and world leaders in the sector. Today, some small workshops making and restoring furniture with carvings still exist. Massimo Casiello, a specialist in artistic woodworking manages to combine the local tradition of making bread stamps with experimenting with new artistic forms. Emanuele Mancini creates not only traditional-style wooden furniture such as beds, chests of drawwers and bedside tables with inlay and carvings using walnut and cherry wood, but also artistic items typical of the peasant tradition such as wooden spoons and bread stamps. Antonio Manicone makes wooden furniture as well –chests, sideboards and cribs using multi-layer poplarwood and leather or jute without any nails, chests of drawers, double beds, tables and bookcases. The material used is solid wood such as cherry, walnut, elm, pinewood and other types of top-quality wood. The inlay work is made with rosewood, padouk, briar, maple and silver leaf settings.
Shoemaking is an age-old trade that has never gone out of fashion although production is now left to a restricted number of shoe-making companies, both large and small . Initially, shoemakers worked in the streets; these craftsmen went from one neighbourhood to another carrying their toolboxes, ready to fix shoes. Work was generally done on the doorstep and only later did small shops open. Besides simply repairing shoes and reinforcing soles and heels, shoemakers were also able to make stylish custom-made footwear. Vitullo, a master shoemaker known in town by the nickname of "Pannera", and his sons set up one of the first shoeshops –a business that closed just a few years ago. In his workshop in via Marconi, Giuseppe Staffieri still fixes shoes and suitcases made of leather and other such materials. Rocco Fuda, the owner of Risolatrice La Rapida, repairs and makes shoes to measure.
In Matera, the art of cutting and sewing fabric, of weaving threads and embroidering has always been an activity of primary importance for a family's finances. Once it was the nuns of Figlie di Sant'Anna (St. Anne's Daughters) that taught girls the secrets of the trade – from wool and cotton combing to make thread and then spools of yarn and balls of wool, to the working of linen fibre, all the way to the use of the loom to produce the fabric which would then go into making a girl's dowry; the loom was generally rented to do this. Up until the 1950s, Necchi sewing machines were a traditional wedding present given by mothers to their daughters who were about to get married. Everyone had one at home. Still today, in the artisanal knitting workshops, wool and other types of yarn are used to make hats, scarves, knitwear, as well as lace and embroidered stoles, curtains and apparel for children. These items are knitted, crocheted or machine-made ; courses teaching the basic techniques are held. One of the artistic workshops for sewing, knitting and embroidery is located in Sasso Barisano where Angela Ramundo transferred her business. There are also several couture workshops manufacturing shirts, garments made to measure and bridalwear. In the San Giacomo neighbourhood, Paola Buttiglione makes lovely shirts that are entirely hand-crafted.